Kwik Sew 3491 Bomber Jacket Repeat
Kwik Sew 3491 Bomber Jacket Repeat
We've been here before, haven't we? Kwik Sew...bomber jacket...floral lining. This all seems so familiar.
Oh yes, I already made almost this exact same jacket,
KwikSew 3491
, blogged
here
. How strange! Oh, the deja vu!
This time, though, it's a trade show sample for Robert Kaufman, so I don't get to keep it. Also, note the lack of beach and blonde hair [goodbye California.]
I have to say, even though I already have almost the exact same jacket, I considered dropping everything and fleeing for the border just so I could keep this one too. [Luckily Hootie talked me out of it.] The style of this jacket is very much me.
[Also just FYI, this post is basically going to be a repeat of the last time I made this exact same thing, because I feel the exact same way. At least I'm consistent?]
Firstly, I will gush about the outer fabric. It's
Robert Kaufman's Chamonix Moleskin
. I really, really love this fabric. It's somewhere between velvet and suede in texture, but it's 100% cotton. So yes, totally machine washable. It's so soft and squishy and texturey, and can you tell I really like it? My last rendition of this pattern was gray, this one is a deep navy.
Now let's talk about that lining, shall we? It's Kaufman's
London Calling lawn
, the same fabric I used as a lining in one of my
Chloe dresses
, just a different colorway. I love the pop of lining inside the hood, and I especially love the lining on the inside. [I'm definitely using the word 'love' way too many times in this post, sorry guys, but it's true.] The pattern doesn't come with lining pieces, so I made my own. The jacket is faced on the inside all the way around the neckline, so I traced off the exterior pieces, subtracted the facing pieces from the tops, accounted for seam allowances, and voila! Lining pattern.
I assembled the lining separately and then attached it to the free edge of the facing all the way around when the jacket was put together but before the hood was attached. The lining bottom, the ends of the sleeves and center of the hood lining are all turned under and hand stitched down.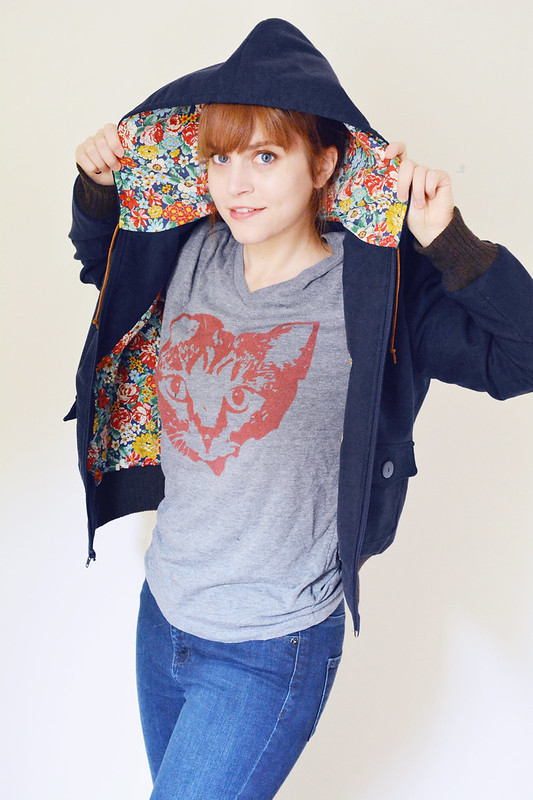 I used the same ribbing that I used on the first jacket. There are few things worse to me than almost-matching colors, and I couldn't find a ribbing that matched the navy exactly, so I went with a contrast. Where do you buy ribbing? I find it to be difficult to source.
The hood drawstring is some just some leather lace from Big Box Store. I think it ties in the brown of the ribbing and adds to the ruggedness of the jacket. And oh how I love a rugged jacket.
Since this was a custom job I timed myself very accurately - I use an app called Hours Tracker - and I was kind of surprised that this only took 7 hours of work time from start to finish, including cutting and hand sewing. Heck yeah! Although the paper pieces were already cut and the lining pieces already drafted, I still felt pretty good about that time. Part of it is that I've recently started using a rotary cutter and weights to cut out patterns, and it is SO. MUCH. FASTER.
By contrast, I also made a Moneta dress with the tie collar and sleeves as part of the same job, and it took me 4 hours. 4! Hooray for knits, right?
Do you ever time yourself when you sew?
[P.S. - because I know you're wondering - that t-shirt was a Christmas present from my brother, and it's from an Etsy shop called
Personal Baggage
. It's a cat face in the shape of Ohio. I repeat, it's a cat face in the shape of Ohio.]
UPDATE: Sadly this KwikSew pattern is out of print now. But here are a few other similar-ish jacket patterns if you'd like to get your mitts on one!
Rigel Bomber
by Papercut Patterns
Malu Coat
by Schnittchen- make it short and add ribbing!
New Look 6226
Kwik Sew 3764
Burda 7047
[not super similar but does have a hood]